It has been a few weeks since I have moved to Linux Mint 10 on my HP dv2000 laptop and I can't say that I have found any major flaws or anything really negative to report, in fact it is all positive. Actually, I do have one negative thing to comment on and it is not in regards to the OS, but rather with the support community (see towards the end of the post).
To read my original post about my move to Linux Mint 10 click
here
.
Mint is minimal and clean...and I like it for that.
The Great Things About Linux Mint 10
A great improvement that you automatically notice when you use a Linux OS is the speed. From the time that I push the ON button on my laptop to being logged in and ready to use the browser takes 43.9 seconds. To sign OFF and shut down the laptop takes even less time, maybe 10 seconds. Ok, it is not a world record or anything, but it makes me want to use the laptop more knowing that I don't have to wait for all of the Windows bloatware to run before I can be productive. Obviously hardware has a lot to do with the speed that you can boot up and down.
One of the neatest things that you are able to do if you have partitioned your hard drive like I have (Vista/Linux) is that you can access the Vista files from the Linux side. This makes it really convenient when you need a Word doc. from Vista. You can pull it up through the hard drive and open and edit it in Open Office (this is the free word processor packaged with most Linux OSs by Oracle). By the way to run windows programs on your Linux side you will most likely have to run it through a virtual machine or WINE, check the Linux websites and forums for more info.
Skype works like in a dream in Linux Mint 10 and my integrated laptop camera worked well with it as well. In fact, the people I Skyped reported that my video quality was much improved (they thought I had a new laptop or camera). I did not mention that I was on the same machine but running Skype on Linux Mint 10 OS until they mentioned about my improved camera quality. The Linux packaged Skype software is a little watered down and does not have a lot of the accessibility options like the Windows version, which I am sure will change soon.
Just like Ubuntu, Linux Mint 10 has Rythmbox. Rythmbox is my favorite music player due to the quality and flexibility of adding urls, radio stations, podcasts, and just about any other kind of audio. It does have Last FM, Magntune, and Jamendo already loaded, but I usually just use the Radio function and add my own stations (streaming audio urls).
There are many free games, applications, utilities, and other software offerings that are free (of course) and easy to download, try-out, and delete or save depending on if you like them or not.
Need Help: Go to Support Forums Not Live Help
There is only one negative comment that I will make about Linux Mint and this may apply to other Linux OS distributions as well, and that is regarding the live support community (my experience was in XChaT IRC). XChat IRC is under your Internet applications in Linux Mint 10 and by opening it you will be instantly be able to ask questions to Linux Mint support operators in a traditional IRC setting. After spending a couple of hours on different days in #linuxmint-help and #linuxmint-chat I can report that if you are new to Linux you will be probably better served in the various Linux support forums than in the XChat.
For some reason the Linux live support community (in my experience) has very little patience with Linux noobies. I asked if anyone could suggest some proxy software for Mint and was provided with a one word answer. I accepted the answer and said that I had had difficulty with that particular software before with Ubuntu and could he suggest a starting point for installation.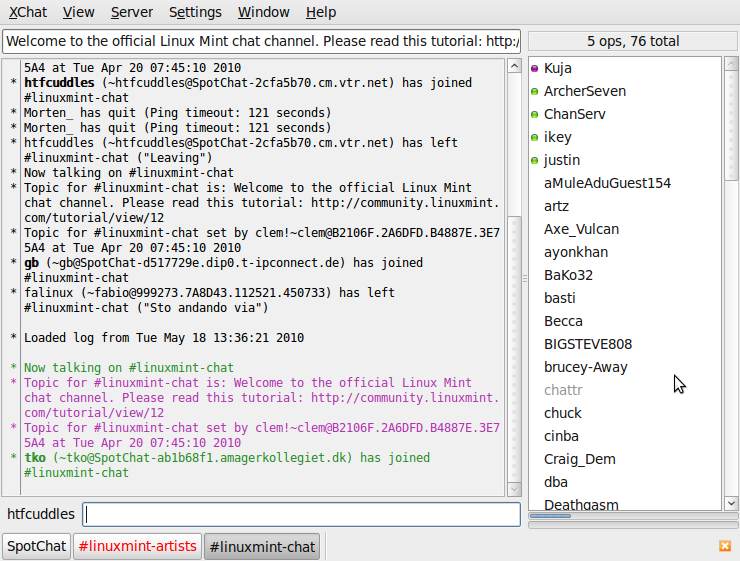 A generic screenshot of XChat IRC #linuxmint-help channel
I then received a message like this from the operator,"Can you believe this guy, comes here for help and gives us this rubbish, another one to ignore." It took awhile for me to realize that the message was intended for me. I somehow had insulted him or her, but I wasn't sure how. Did I screw up by mentioning Ubuntu? Are these OSs competitive? Are they like the Bloods and the Crypts? Anyway, the tone I received was an icy one and it turned me off. After asking around on twitter, the message and treatment I received seemed to be a typical one for those seeking help in a live environment.
I understand that the help chat operators must receive some really dumb questions, they probably volunteer their time, and they are probably right to feel frustration, but how does this help the open source movement in the long run? In any case, the various Linux support forums have been excellent and they have a much more welcoming atmosphere. I realize that my experience was an individual one, and I will not paint the entire Linux live support with the same brush. Despite me first impression of the live support, I think that it is awesome that a free OS comes with the ability to receive live (human) help in seconds. Mint ON!
*Information contained within these pages do not necessarily reflect the opinions or views of
Schreiner University
.